70th Birthday Bash
What a party we had!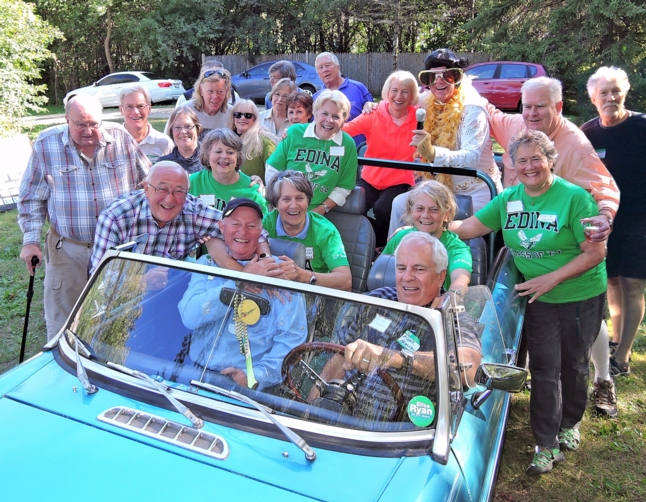 We kicked off our shared 70th birthday celebration on Friday, Sept. 16, at Bunny's, where we gathered for drinks, appetizers and birthday cake. Lively conversations filled the air as we caught up on the years since our 50th reunion.
The next day, in perfect fall weather, Mark and Eileen Brandow hosted us at their home in Mound. With barbecue king Mark and his family at the grill, we had a delicious potluck picnic. A surprise guest joined the fun when the King himself — Elvis, that is — arrived, in full regalia, in Mark's MGB custom limo, crooning his hit songs. He graciously offered to further our cause by posing with guests in exchange for a small donation to the Edina '64 coffers, which will help fund our website and future events. Then Elvis entertained us with a spirited game of '60s trivia. The prizes? '60s candy, of course.
The fun continued at sea as Tom Anderson rounded up classmates for a ride on Lake Minnetonka aboard his boat. One group of riders went AWOL for a while as they helped Peter Van Wazer search for the site of his former lakefront homestead. Thank goodness for cell phones: Contact was reestablished and the wayward wanderers made it back before dark.
A big shout-out to Mark and his family for hosting the picnic. Thanks also to committee members who made the two events such a success: our chair Karen Hegener Tangen, Katie Sandt McCullough, Ike Eichhorn, Barb Prestly Herrmann, Pam Carlson Morford, Phyllis Hanson Evans, Dick Hays, Tom Anderson and Ginny Bayers Herzog. Finally, our gratitude to Bruce Bomier and Tom Anderson for donating the services of their company for the graphic design, printing and mailing of the event postcard.
Mark has generously extended an invitation to us to plan another picnic at his place next year. Stay tuned….