In Memory
Thomas Anderson
Thomas Roy Anderson, 74, of Eden Prairie MN, passed away peacefully on Friday, September 25th, 2020. Tom's battle with pancreatic cancer was a difficult, though brief. He was grateful for the happy, healthy life he lived, but he wanted more time with family and great friends. However, he found peace in his knowledge that this was God's will and God's timing. Tom was preceded in death by his father, Clifford, mother, Helen, and his sister, Val, who also passed away from the same cancer this year. Tom is survived by his wife, Bev (nee Barrett). October 18th would have been their 45th anniversary. Also survived by sons, Ryan; Brett (Lisa) and granddaughter, Ava; sister, Cathy Kindem (Jim); and brother-inlaw, Jerry Bowen. Tom's love for his family may only have been challenged by his love for Minnesota and its outdoor sports, his lake home that he built much by himself, and his dogs, Chamois and Chase, their hunting and obedience training, dock jumping, and modeling careers (shooting print ads and TV commercials). After graduating from Edina High in 1964, where he helped to set the MN state record in the mile relay, he earned his degree from Mankato State. Then, Tom worked in the telecommunications industry and also served for over 30 years as a director of the non- profit, Environmental Resource Council. In his final days, Tom's thoughts were of his family and friends. Selfless and caring, he wanted to spend more time with all of them. He felt blessed to share his life and will be deeply missed. A private family prayer time will be held in the near future. To be notified of the future Celebration of Life, please email your email address and/or phone number to: tomandersoncelebration@gmail.com Memorials may be made to: donor's choice, NC Little Memorial Hospice, pancan.org, or Wooddale Church. washburn-mcreavy.com Edina Chapel 952-920-3996
Tom will be missed especially by his local classmates who were able to get to know him better when he frequently joined us for get-togethers. He brought his enthusiastic, sweet personality and big smiles to those events. One of his favorite topics was his beloved dog, Chase, who frequently appeared in print and commercials. RIP, Tom.
Dear Classmates, November 2020
Tom Anderson passed away this September, shortly after a diagnosis of pancreatic cancer.
Remembering our high school experience was important to him, as was his appreciation for Ginny and the group that keeps the Class of '64 connected. He especially appreciated that our class web site enabled him to stay in touch with his track teammates, with whom he helped set the state record for the mile relay.
He and I remained close from junior high school on, sharing both challenges and wonderful experiences. He was a kind and honest man with a loving family. He quickly became friends with just about everyone. He had this warm, almost permanent, smile. The last time we met, he was in serious discomfort, but somehow genuinely smiled as we said good bye.
Tom married Bev (Barrett), and their family includes two sons, Ryan and Brett, a daughter-in-law, Lisa, and granddaughter, Ava. He was always grateful for and understandably proud of his family and especially excited regarding the birth of Ava last year.
Following graduation, he earned a business degree, did postgraduate work in finance and went on to senior sales positions with several major companies in telecommunications. In retirement, he continued hunting, boating, water and snow skiing, and fishing. He enjoyed working on his cabin and with his dogs, including training them for public appearances, television commercials, and print ads.
For over 30 years, Tom and I served on the board of a non-profit organization working with environmental programs. During those years, we annually fished in Canada or Northern Minnesota, sometimes with Department of Natural Resources foresters. I remember late at night, by campfire, talking and sometimes arguing about environmental matters involving forest and water management. Tom would quietly disappear. I would find him standing alone by a lake, looking at the stars, listening to night sounds and, of course, smiling. "How beautiful!" he would say.
When we traveled together it was risky letting him pay for gas. He would come out of the station 20 minutes later and tell us the life story of the sales clerk—a new friend.
Kindness was his hallmark and I was one of many recipients.
I graduated from the U in 1968, then served in Vietnam. When wounded in the 1970 Cambodian invasion and sent home, I went back to the U. It didn't go well. The U was on strike and Viet Cong flags lined the mall. I had been on the U's debate team, and when I visited the team, an exasperated debater told me I should be ashamed of my military service.
And then there was Tom.
He was profoundly glad to see me home and safe. I can remember exactly what he was wearing when we saw each other, but most especially, I remember the smile. His compassion and friendship went beyond the politics and angst of the times-an important lesson for us these days.
Throughout his life, he was that way. Within the last couple of years, he went out of his way to spend time with classmates who were ill or terminal, including Lyle Franke and Dave Field. He never stopped caring about others.
Tom had many fine points and accomplishments, but I know how he would most like to be remembered by his classmates—as a friend.
Due to COVID-19 restrictions, if you wish to attend Tom's Celebration of Life in the future, please send your email or phone number to tomandersoncelebration@gmail.com and Tom's family will send you information when it becomes available.
~ Bruce Bomier ~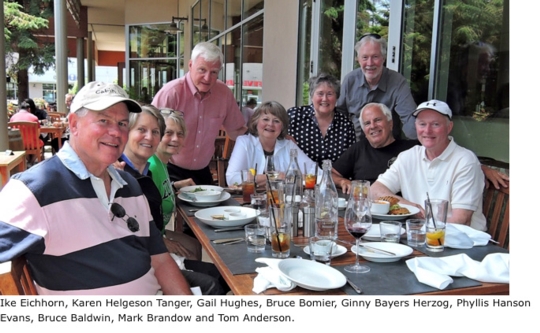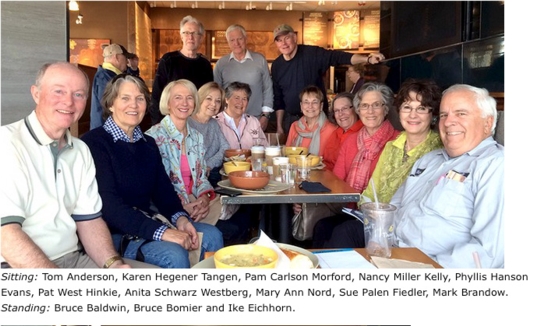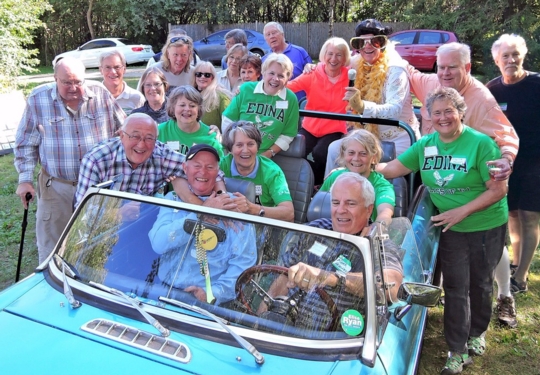 At our 70th Birthday Bash, graciously hosted by Mark Brandow, Tom is in the front passenger
seat. 1969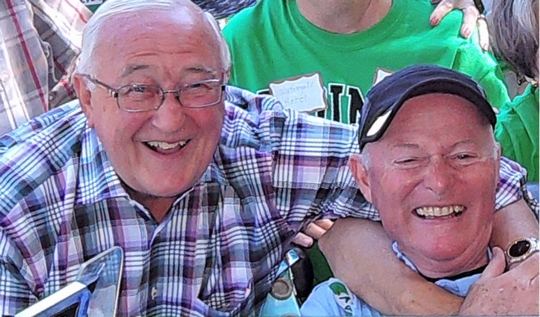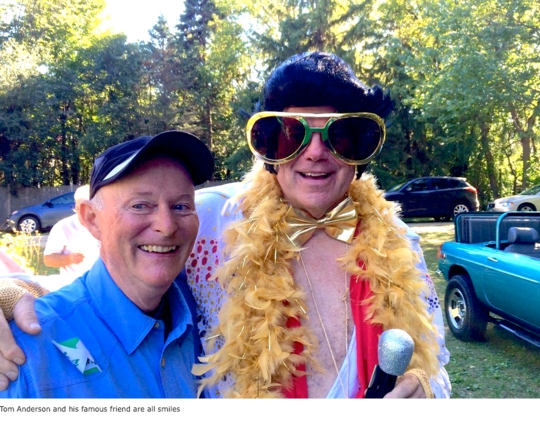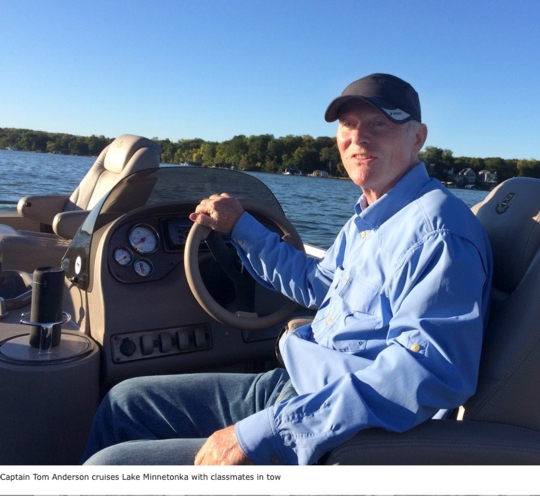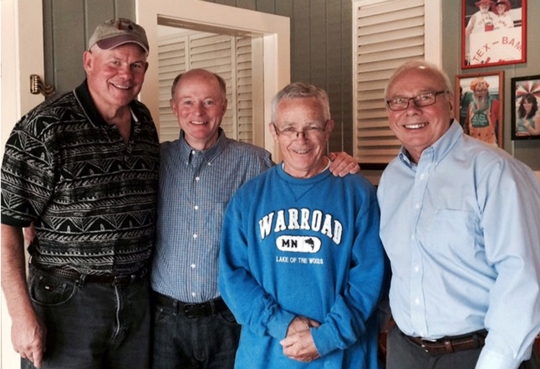 Ike, Tom and Jim Carriger got together with one of our favorite English teachers, Larry Stott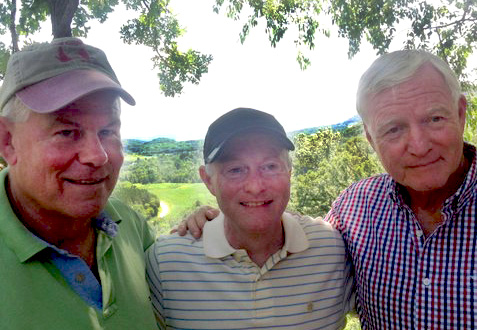 Tom and Bruce Bomier visited Ike at his property near Lake Pepin

Tom and his beloved dog, Chase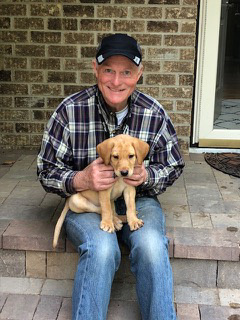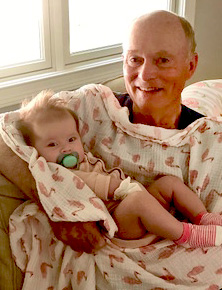 Proud grandpa Tom with his new granddaughter, Ava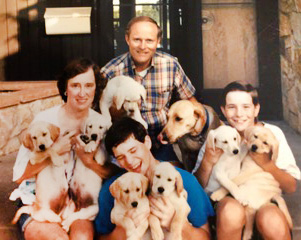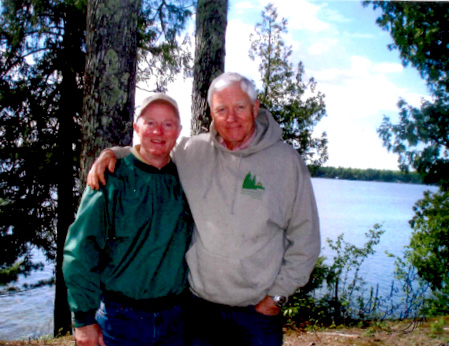 Tom and good friend and classmate, Bruce Bomier, on a fishing trip to Canada