In Memory
Christopher J. Busa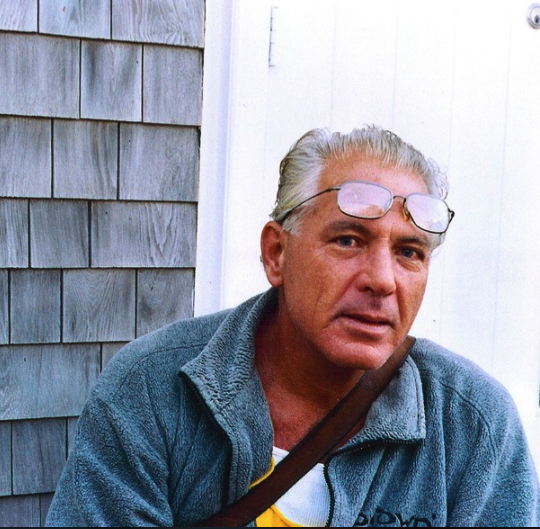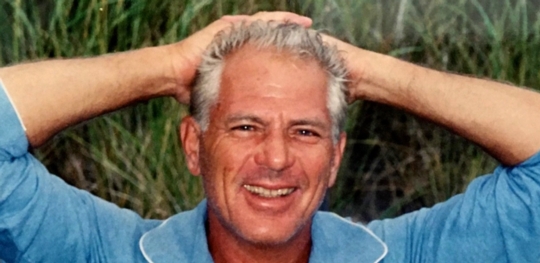 "It is with shock and heavy hearts that we write to share the tragic news that Chris Busa died early Saturday morning, June 20, 2020 at Brigham and Women's Hospital in Boston. Over the past several days, his heart had begun to fail as the result of a congenital defect it was discovered he'd had since childhood. He was surrounded by family, and died peacefully.
Chris founded Provincetown Arts Press in 1985. For thirty-five years, he dedicated himself to producing Provincetown Arts each year, and to publishing books by and about writers and artists connected to Provincetown. He was tireless in his efforts to both chronicle and support the ongoing growth of the historic artists colony and arts community on the Outer Cape through the magazine and other press publications, and well-loved by his many family members, friends, and colleagues at the press. He is irreplaceable, and will be sorely missed.
In a few days, the 35th Anniversary Issue of Provincetown Arts—for which Chris planned, edited, and wrote articles over the course of the past year, along with the rest of the magazine staff, will go to press. Its pages will include a memorial for Chris. That he did not live to see the publication of this momentous issue, which meant a great deal to him, is still difficult to believe.
On behalf of the Provincetown Arts Press staff, and our board of directors, thank you for your support of the magazine, which meant so much to Chris."
Chris attended our 50th Class Reunion and was photographed with his tennis teammate, Morey Knutson. Our team took second in State in our senior year.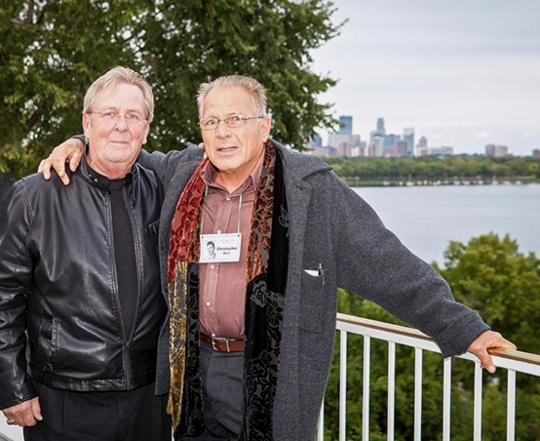 Christopher Busa was born in New York City in 1946, the son of a painter who participated in the formative years of Abstract Expressionism. Spending part of every year in Provincetown since infancy, he slowly absorbed its mythology as a place where artists and writers gather to work and live. After graduation from the University of Minnesota he studied for a year in Paris at the Sorbonne, and then pursued a Ph.D. for ten years while teaching English at Rutgers University.
His interviews and profiles of artists and writers have appeared in the Paris Review, Arts, Partisan Review, Garden Design, and other magazines. Two published pieces were reprinted in Interviews and Encounters with Stanley Kunitz, edited by Stanley Moss (Sheep Meadow Press). Another essay, "Being a Great Man Is a Thesis Invented by Others," appeared in Such Desperate Joy: Imagining Jackson Pollock (Thunder's Mouth Press). He has curated exhibitions and written catalog introductions for many artists. He co-edited and introduced the Erotic Works of D.H. Lawrence (Crown, 1989), the subject of his dissertation. He is the author of The Provincetown Artists Cookbook, with Written Sketches of the Artists Creating a Contemporary Portrait of the Town as an Art Colony (Abingdon, 1988). Over the past 20 years he has taped several hundred interviews and created files on over 1000 artists and writers in preparation for a comprehensive title about the century-long history of the art colony.
His WOMR-FM 92.1 radio program, "ArtTalk," airs three times a month over the past five years, introducing new and established artists, performers, and writers discussing their current project and what moves them to do it. He is a member of the International Association of Art Critics (AICA), based in Paris, and he is one of 16 members of the American New England Chapter, which selects two dozen "Best of" exhibitions annually in museums, commercial galleries, and university art galleries in painting, sculpture, and architecture. He is on the board of the Norman Mailer Society and on the editorial board of the Mailer Review, published by the Society and by the University of South Florida. He teaches one semester a year in the low-residency Graduate Program in Creative Writing at Wilkes University in Pennsylvania.
Obituary
Christopher "Chris" Busa, 73, a key figure of the arts community of the Outer Cape since the mid-1980s, died at Brigham and Women's Hospital on Saturday, June 20, due to complications from a congenital heart defect. His legacy to Provincetown is multifaceted and deep: he was the guiding force behind Provincetown Arts magazine and press, a beloved tennis pro and teacher, and one of the great wits who studied and reflected the soul of the town.
Chris, who grew up in New York's Greenwich Village, came to Provincetown starting in infancy. The burgeoning art colony was an important destination for his father, Peter Busa, a noted abstract painter who studied with Hans Hofmann. In later years, Chris's mother, Jean Busa, lived in Provincetown year-round, and his siblings Stephen, Paul, Marianne, and Nick were residents at times as well. Provincetown was always Chris's real home: throughout his early adulthood he returned frequently and taught tennis at an East End tennis club, an outlet for his great physical energy and zest for life.
Following college years at the University of Minnesota, where his father taught studio art, and a sojourn at the Sorbonne in Paris, Chris attended graduate school in English at Rutgers University in New Jersey. His Ph.D. research focused on D. H. Lawrence, the English writer whose exploration of the psychological and sensual remained a touchstone for Chris throughout life. However, as he like to put it, he "escaped" the academic track, sensing its limitations, and found his true calling back in Provincetown, when his good friend Ray Elman had the idea to start an arts magazine, in 1985.
Launching into this new project with characteristic brio, Chris learned the ropes of publishing along with Ray, and they produced a tabloid-format magazine for four years, enlisting the town's outstanding writers to describe its foremost visual artists; poet Stanley Kunitz wrote on painter Jack Tworkov in the inaugural issue.
The magazine's vital function quickly became evident: it not only reflected the art world of the Outer Cape, but also fostered it, giving artists' work a resonance that traveled far and wide. Published annually, with Chris as editor-in-chief, the magazine soon grew into the format of a 150-plus-page glossy that became required reading for anyone following the arts in and around Provincetown.
As the magazine expanded its scope, Chris became the ultimate flaneur and art historian of Provincetown. He attended innumerable openings and performances, visited studios, corresponded with artists year-round, and read the poetry, fiction, and art criticism produced by the town's writers. Over the course of his study of Provincetown, Chris created over 1,000 files on artists. Guided by his vision, the magazine featured such notables as Norman Mailer, Robert Motherwell, Helen Frankenthaler, Joel Myerowitz, Eileen Myles, John Waters, Michael Cunningham, Paul Resika, and Mary Oliver.
Always based in Provincetown's East End, Chris became part of the close-knit arts circle there, regularly playing poker with Mailer and friends, and later becoming a board member of the Norman Mailer Society. He was also a member of the Beachcombers Club, where he regaled members with wittily insouciant "minutes."
In the past year, Chris worked exclusively on the 35th-anniversary issue of the magazine—which will be issued in the coming weeks—a testament to his dedication to Provincetown's art community, despite his weakening health. Conscious of "Provincetown 400" events, he determined that the issue would include essays on Wampanoag culture, as well as tracing key recent contributions across the town's art scene.
Under Chris's direction, the annual magazine became a nonprofit entity—Provincetown Arts Press—which has published some twenty books selected and often edited by Chris. Chris additionally found time to write for journals such as Paris Review and pen a memoir and novel, currently in manuscript form. He was also known for his show "ArtTalk" on WOMR Community Radio.
Chris is survived by his siblings Nick of New York City; Marianne of Sedona, Arizona, and her children Leandra and Christopher; and Stephen of Chatham; he was predeceased by his brother Paul. He is also survived by former wives Sandra Hricko of Minneapolis, Minn., and Gillian Drake of Eastham, Mass., as well as longtime partner and colleague Ingrid Aue of Cambridge and her sons Julian and Justin Goodstein-Aue, who called him "uncle Chris."
Provincetown Arts Press, under the leadership of interim director Elizabeth Winston, will be honoring Chris with virtual events this summer as well as with tributes in the magazine. A memorial service will be announced at a later date.
Donations in Chris's memory may be made to Provincetown Arts Press, Inc., 650 Commercial Street, Provincetown, 02657. A special memorial fund is being established by the press.