In Memory
Lloyd A. Hauskins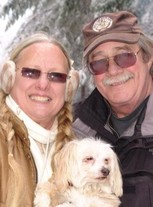 Lloyd Hauskins, age 72, of Redway, CA, died of pneumonia on January 16, 2019. He is survived by his wife, Annie and daughter Gabrielle.
Lloyd was a graduate of the U of M in English and Philosophy/Humanities. He later attended the Elkins Institute of Photography, Broward College and Florida State Fire College - EMT/Paramedic. He worked for ten years on Fire/Rescue in Ft. Lauderdale FL. He also worked for Ecolé - Adventures International, doing web design, graphics and copywriting.
He spent later years living on sunshine, choppin' wood and off-grid gardening in the forests of northern California and also enjoyed playing rock n' roll guitar with his band.
His long time chump in junior and senior high, John Nelson, shared these memories -
Lloyd was a member of the Blizzard Ski Club for many years and a door or so away from another classmate, Dana Price. Lloyd was very much into music most of his life and after seeing him a few years back in California, I found out that he made a couple of CD's. He was always a kind soul, true to himself and well-liked by many. Rest in peace.