In Memory
Julie W. Jones (Marrs)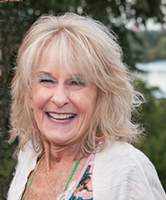 Julie Jones Marrs, passed away on Monday, May 13, 2019. Julie was 72 and resided in Minnetonka.
Born October 22, 1946 in Lancaster, PA, she was the daughter of the late Dan and Worthington Jones.
Julie is survived by her daughters, Amy Lee Hayes and Emily Elizabeth Marrs; Larry Marrs, Amy and Emily's father; her grandchildren Hannah (21), Hunter (18) and Maddie (17) Hayes; her sister, Marjorie and her husband John Hellweg, and her nephew Jonathan Graham and niece, Maggie Graham.
Julie was a beautiful woman, inside and out. She touched those in her life with abounding grace, kindness and fiery spunk. Her love for all things Harley, rock and roll music, cats and her family brought her great joy throughout her years. She is now in the arms of her heavenly father.
A Celebration of Life Open House will be held on Monday, May 20th at her sister's home - 3407 Moorland Rd, Minnetonka, MN 55345 from 4:00 - 8:00 PM with a time of sharing and words from family members at 6:00 PM. All family and friends are welcome.