In Memory
Thomas (Tom) Merriman
We received sad news from Charlene (Char) Olson Merriman this week of the recent loss of her husband, also our classmate, Tom Merriman. Our sincerest condolences to Char and their daughters, Ann and Katie.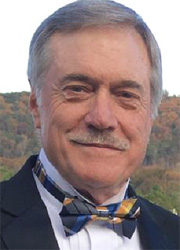 Thomas E. (Tom) Merriman passed away on January 29, 2021 at the age of 74, due to complications from non-Hodgkins disease. Tom was born at Fairview Hospital in Minneapolis on July 26, 1946 to Randy and Evelyn Merriman. He graduated from Edina High School in 1964, and attended the University of Minnesota-Duluth, where he met Charlene (Char) Olson. They became great friends during their freshman year in college, and that friendship lasted a lifetime.

At the beginning of 1967, Tom joined the Navy, and it was then that he and Char knew they were not only best friends, but they were in love with each other. They were married in December 1967, while Tom was in Naval training in Millington, TN. In March of 1968, Tom received his orders to go to the Naval Air Station in Key West, Florida working as a radar technician. Tom and Char lived in Key West for 3 years, when Tom was honorably discharged.

For the next 50 years, Tom and Char lived in Minneapolis (several times), Denver, Cincinnati, and Boca Raton. Tom and Char were blessed to have two beautiful daughters, Ann, born in Cincinnati in 1975 and Katie who was born in Boca Raton in 1984. Tom's greatest joy was being "Super Dad" to his girls. He coached his "third-baser" Annie's softball teams, both rec league and tournament ball, and he ushered at the children's theater as he watched his "star" Katie in her acting roles. Dad was also a pretty good "sideline coach" watching his girls play basketball and soccer – he never missed a game or a play.

Tom began working at American Express in 1980, switching over to IBM in 2001, working mostly in compliance before retirement in 2011. In 2017, Tom and Char left their home in Boca and moved to the house of their dreams in Big Canoe, GA. Tom joined the Big Canoe Golf Club. He became an "avid" golfer, almost always loving the game, but most of all, he enjoyed the friendships he made on the golf course. He was part of the Ace's Golf League, and proudly served as the Ace's Commissioner in 2020.

Tom and Char loved their mountain home and were very blessed to have many, many wonderful neighbors and friends. Tom is predeceased by his parents, Randy and Evelyn, and his mother and father-in-law, Grace and Harry Olson. He is survived by his loving wife, Char; his two favorite daughters, Ann and Katie; his sister Susan Niefeld; brother Michael Merriman; his nieces and nephews; as well as his extended family and so many wonderful and loyal friends.

Online condolences may be made at www.roperfuneralhome.com.
To send flowers to the family or plant a tree in memory of Thomas E Merriman please visit our Tribute Store.
https://www.tributearchive.com/obituaries/19855990/Thomas-E-Merriman