In Memory
Victor A. Koivumaki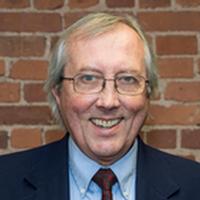 Victor A. Koivumaki III, 70, passed away Monday, May 2, 2016, at his home, surrounded by his family.
He leaves his wife of 40 years, Sylvia A. (Fuge) Hollister; two step-sons: James Hollister and his wife, Molly Molloy, of Durham, NH, and Matt Hollister and his wife, Nicole Arpiarian, of Sudbury; four grandchildren: Nate, Tess, Penelope and Tripp; a brother, Fred Koivumaki and his wife, Molly, of Chaska, MN, and Sue Warfield and her husband, Kris Schmidt, of Ely, MN; nephews Will, Graham, and Alex, and niece Erin, and their families.

Victor was born and raised in Minneapolis, Minnesota, son of Victor A. and Elaine W. (Johnson) Koivumaki II. He was a 1969 cum laude graduate of Harvard University and a Rockefeller Scholarship recipient at Harvard Divinity School, where he studied from 1968 to 1969.

For 30 years Victor worked as an administrator at Harvard University. After his retirement from Harvard, he then spent the next decade working in the family business, Hollister Insurance, in Clinton, MA.

An elected member of the Town of Lancaster Planning Board since 1995, on May 2 Victor received a Citizen Volunteer award by the town of Lancaster honoring his more than 20 years of dedicated service. In addition to his many town activities, he was a Director of Harvard College from 2011 to 2014, Chairman of the Montachusett Regional Planning Commission since 2005, held state, regional, and national leadership positions with the American Red Cross since 1982, was a recipient of the American Red Cross Clara Barton Award for Meritorious Volunteer Leadership, and was a member and past-president of the Nashua River Watershed Association. Victor championed many environmental causes, and loved his Saab cars, pets and, above all, his family.

Funeral services and burial were private. For those who wish, Victor's family suggests that memorial donations be made to the Massachusetts Audubon Society, 208 South Great Road, Lincoln, MA 01773; The Listening Point Foundation, P.O. Box 180, Ely, MN 55731; the American Red Cross, 2025 E Street NW, Washington, DC 20006; the Nashua River Watershed Association, 592 Main St., Groton, MA 01450; or to an environmental or animal rescue cause of your choice.