Edina

High School




Class of 1964
Bryan Grohnke Inducted into EHS Athletic Hall of Fame!
Several members of our class attended the annual banquet for the Edina Athletic Hall of Fame inducting members of the EHS sports community from the 1950s to today. Our classmate, Bryan Grohnke was inducted for Basketball and Baseball in 1964. Grohnke held three individual school records in basketball for nearly fifty years!
Sadly, we learned that Bryan passed away in 2020 of heart related issues. His wife, Beth, accepted the plaque on Bryan's behalf. Steve Kagol nominated Bryan into the Hall of Fame. Many former coaches and other inductees were in attendance. Nice to have the class of 64 represented. We were the oldest group in attendance. Willard Ikola and Art Downey were coaches attending that our classmates would know. It was a great event honoring other Edina greats as well.
The Grohnkes resided in Virginia as Bryan was in government service for many years. Brian was extremely humble and a private individual. He never wanted any fuss made over him at all. He was that way all through his life. He always felt he was just one of a great team of guys who were dedicated to taking Edina the their first state high school basketball tournament. Our season was undefeated until we lost our semifinal game to Rochester at Williams arena. It was the start of a great basketball run for Edina in the following few years.
Ike Eichhorn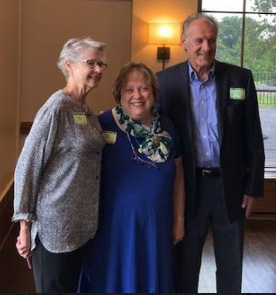 Mrs. Kagol, Beth Grohnke, Steve Kagol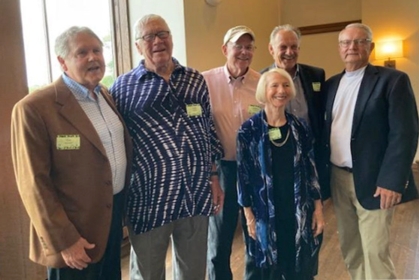 Tom Awsumb, Mark Nordell, Ike Eichhorn, Pam Carlson Morford, Steve Kagol
and Keith Hilgendorf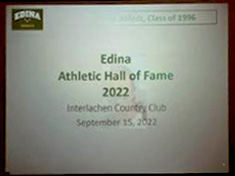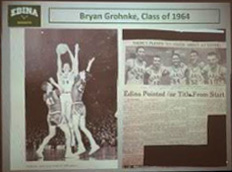 For many more photos of our basketball team and their outstanding senior year, visit this
section of our website - Those Were the Days > High School > Basketball Team

Can't log on?? Forgot your password?
Don't despair. It happens to all of us at some time or other. Yes, even to your admin.
We are 76 this year, after all (YIKES!!). If you are having trouble logging in, use the "forgot password" link to reset your password. Go to our home page and click on "Forgot Password?" in the gray Log In box in the upper right corner. This will allow you to reset the lost password without the assistance of the admin.
If that doesn't work, just click on Contact Us and the admin will do a temporary reset of your password so you can log in and change it to one that you can remember.
Check out the Class Chatter page!
This page is a terrific way to stay in touch with what's going on around the website all from one convenient location. Think of it as a central hub for all information passing through our website. You can post content, photos and videos directly on the page. You can also respond to all existing site activity from the Class Chatter page.

To add a photo to a comment to Class Chatter in a string of postings...
1. Click on the symbol in the lower right corner.



2. Select the photo file.
3. Click on Post Comment
Your admin-in-chief -- Ginny
Life in the Fifties (Author Unknown)
Long ago and far away, in a land that time forgot,
Before the days of Dylan, or the dawn of Camelot.
There lived a race of innocents, and they were you and me,
For Ike was in the White House in that land where we were born,
Where navels were for oranges, and Peyton Place was porn.
We learned to gut a muffler, we washed our hair at dawn,
We spread our crinolines to dry in circles on the lawn.
We longed for love and romance and waited for our Prince,
And Eddie Fisher married Liz, and no one's seen him since.
We danced to 'Little Darlin,' and sang to 'Stagger Lee'
And cried for Buddy Holly in the Land That Made Me, Me.
Only girls wore earrings then, and three was one too many,
And only boys wore flat-top cuts, except for Jean McKinney.
And only in our wildest dreams did we expect to see
A boy named George with Lipstick, in the Land That Made Me, Me.
We fell for Frankie Avalon, Annette was oh, so nice,
And when they made a movie, they never made it twice.
We didn't have a Star Trek Five, or Psycho Two and Three,
Or Rocky-Rambo Twenty in the Land That Made Me, Me.
Miss Kitty had a heart of gold, and Chester had a limp,
And Reagan was a Democrat whose co-star was a chimp.
We had a Mr. Wizard, but not a Mr. T,
And Oprah couldn't talk yet, in the Land That Made Me, Me.
We had our share of heroes, we never thought they'd go,
At least not Bobby Darin, or Marilyn Monroe.
For youth was still eternal, and life was yet to be,
And Elvis was forever in the Land That Made Me, Me.
We'd never seen the rock band that was Grateful to be Dead,
And Airplanes weren't named Jefferson and Zeppelins were not Led.
And Beatles lived in gardens then, and Monkeys lived in trees,
Madonna was Mary in the Land That Made Me, Me.
We'd never heard of microwaves or telephones in cars,
And babies might be bottle-fed, but they were not grown in jars.
And pumping iron got wrinkles out, and 'gay' meant fancy-free,
And dorms were never co-ed in the Land That Made Me, Me.
We hadn't seen enough of jets to talk about the lag,
And microchips were what was left at the bottom of the bag.
And hardware was a box of nails, and bytes came from a flea,
And rocket ships were fiction in the Land That Made Me, Me.
Buick's came with portholes, and side shows came with freaks,
And bathing suits came big enough to cover both your cheeks.
And Coke came just in bottles, and skirts below the knee,
And Castro came to power near the Land That Made Me, Me.
We had no Crest with fluoride, we had no Hill Street Blues,
We all wore superstructure bras, designed by Howard Hughes
We had no patterned pantyhose or Lipton herbal tea
Or prime-time ads for personal things in the Land That Made Me, Me.
There were no golden arches, no Perrier to chill,
And fish were not called Wanda, and cats were not called Bill.
And middle-aged was thirty-five and old was forty-three,
And ancient were our parents in the Land That Made Me, Me.
But all things have a season, or so we've heard them say,
And now instead of Maybelline, we swear by Retin-A.
They send us invitations to join AARP,
We've come a long way, baby, from the Land That Made Me, Me.
So now we face a brave new world in slightly larger jeans,
And wonder why they're using smaller print in magazines.
And we tell our children's children of the way it used to be,
Long ago and far away in the Land That Made Me, Me.
Check out the Forum link
We're giving new life to this overlooked section of our website. Forum is where classmates may introduce a topic of discussion or pose a question and invite an exchange of comments and opinions. Photos may also be posted to illustrate the subjects. The first topic, posted a couple of years ago, shone a light on the subject of Our Teachers -- a collection of reminiscenses about some of our most memorable faculty. On a more serious note, Bruce Bomier recently submitted his reflections on the Vietnam War, triggered by a return trip to the country where he served in the army 45 years ago. You won't want to miss it.
How to use Forum
Forum is a little different from other sections of the website: You must subscribe -- that is, you must set up the conditions under which you wish to be notified of new topics and comments as they are posted. You may ask to be notified of all New Topics, in which case you will receive only the initial topic posting. If you wish to follow the discussions as they unfold, you may ask to receive all comments in the discussion thread. Simply follow the prompts in the Forum link to set up your preferences.
We hope this new feature will stimulate a lively exchange of ideas, opinions and insights on a variety of subjects. Why not take the time to learn what your classmates are pondering?
Need Help Adding a Photo?

Here are some simple instructions to follow to add photos to your profile or on Class Chatter.
Your profile page
1. Log in with your password.
2. Go to your profile.
3. Click onto the green button "Add Photo" in the post box.



4. Select the photo file.
5. Click on Post Comment
Planning a classmate get-together? Let us know.
Get-togethers is the place for news of small-group gatherings in your area. Whether you want to issue an open invitation to other classmates or post a photo of fun times shared, just click on Contact Us in the menu bar at left, tell us about your event/outing and we'll post the details. You're in charge of the planning; we'll help you spread the word. Whatever you plan, don't forget to take pictures. The rest of us want to see what you're up to!